Employee Mobile Application for Effective Internal Communication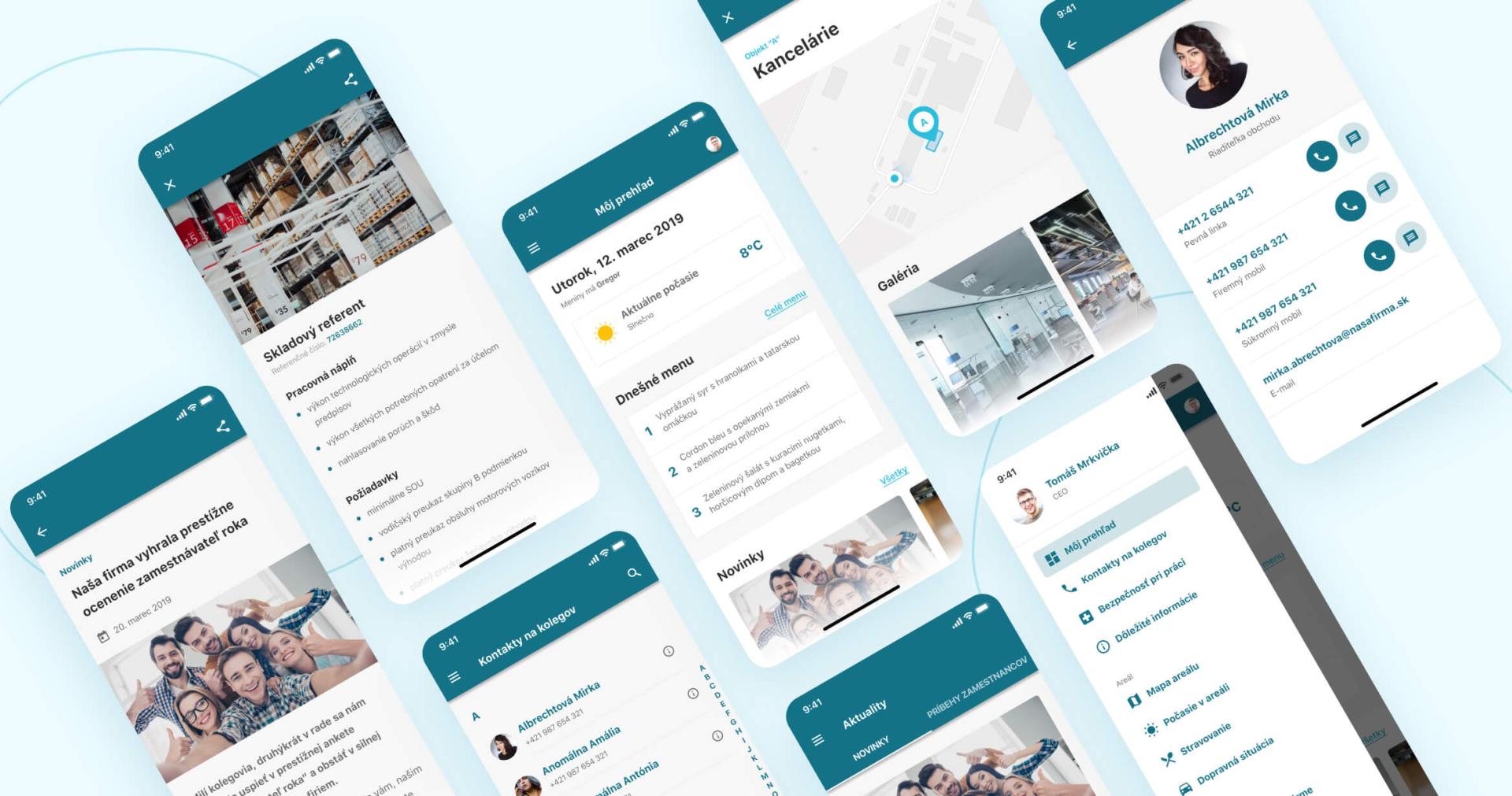 How is it possible to ensure that all employees always have important internal announcements about what is happening in the company and all the practical information that applies to them? How is it possible to ensure that they have an overview of current benefits, events, menu, the traffic situation and current weather? We have a mobile solution that will make this all possible.
All information in one place and always accompanying you
In our employee application there is everything a person needs to be fully informed about everything that happens in the company. Important information about the company (addresses, billing and contact details, employee benefits...), internal announcements and news (news, calendar of events, employee stories, vacancies, ...) and all useful information ( site map, catering, transport, weather, first aid, ...) is available.
Quick connection of employees at work
Employees have a "Contacts for Colleagues" section in the application, which contains the necessary contact details for all company employees. No missing phone number will stand in the way of efficiency, and with it the inability to contact a colleague with whom any situation or problem could be solved.
A platform for sharing in-house stories
The employee application can also become a platform for sharing interesting stories about employees, career growth or events and initiatives that are popular among colleagues. It is a great place to publish internal articles that will increase the awareness and motivation of the entire team of people.
The application design is a customizable client manual design
The visual of the mobile application can be adjusted to a certain extent according to the individual needs of the client. It is mainly the color and font, which can be set according to the information resulting from its design manual.
Additional application extension options
You can add a module to the application that allows you to collect suggestions and feedback from employees, for example in the form of simple questionnaires and surveys. We can also implement an intelligent chatbot in the software, which will act as a calendar manager and remind employees not only of important events, but also the birthdays and anniversaries of colleagues. It is also possible to integrate a module that allows you to advertise excess company assets employees can purchase.
We can quickly expand the application with other functionalities we are gradually working on, such as: personalized sending of notifications, reporting of incidents and problems, internal chat, courses for employees and other conveniences.
Why do you also need this application in your company?
Employee applications can quickly and efficiently convey information on what is happening in the company to employees at all levels, guarantee its more effective exchange and improve the overall information, motivation and relevance of employees to the company.
It is a modern and useful communication tool, available to every employee on their mobile device.
It increases the awareness of employees of the company and their affiliation with the brand.
It acquaints employees with current information and news at the time that best suits them.
It increases people's safety at work: in the event of danger, it provides real data on how many people are already at risk and how many of them are in the building.
Improves the orientation of employees: map of the area, information about the traffic situation and weather...
Get in Touch with Us:
Fill in this form, or, if you prefer, send us an email. Don't worry, we'll send you an NDA and your idea will be safe.
Do you want to be our client?