The VR Multiplayer Platform Enabling Social Interaction in Shared Virtual Environments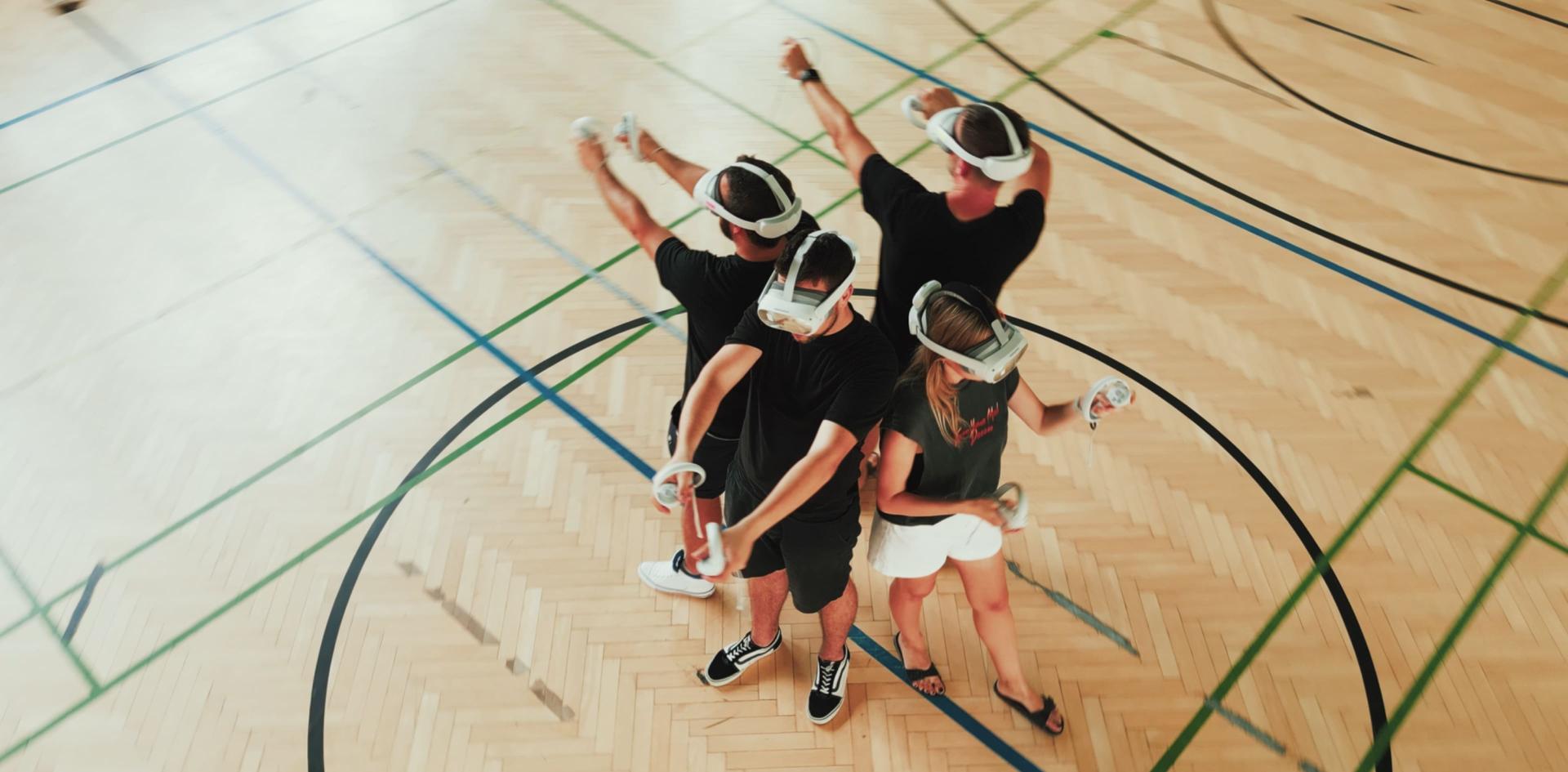 INTRODUCTION
Platform Facilitating Social Interaction and Immersive Experiences
This case study revolves around the Holodeck Space – a VR Multiplayer Platform that solves a problem in the world of Virtual Reality: the lack of social interaction. Traditional VR applications have been mostly solitary experiences, leaving users/gamers isolated from each other. Our innovative solution allows players to interact with each other within the virtual environment while being physically present in the same space.  
The main challenge we faced was the limitations of existing multiplayer applications, which hindered players from safely engaging with each other in confined spaces without the risk of injury. To overcome this, we developed the Holodeck Space that tracks and compares the position of each player in the physical space, displaying their movements as 3D avatars in the virtual world. This concept enables the transformation of any physical space by overlaying it with custom 3D graphics, elevating the gaming experience to unprecedented levels of immersion and social interaction.  
CHALLENGE
Overcoming Virtual Environment Synchronization Challenges in VR Multiplayer 
During the development of the Holodeck Space, we faced these challenges: 
Synchronization of the location of users within the physical space – translated 1:1 to the virtual space in XR application 
Synchronization of the location of users in real-time, with minimal latency 
Synchronization with virtual environment and objects in XR application 
Defining the ideal combination of Network topology and Authority type 
Synchronization of physics in a virtual environment 
SOLUTION
Elevating Control and Safety Thanks to Our Unique Approach to VR Multiplayer
We developed a unique system for referencing a player's position in physical space and translating it 1:1 to a position in a virtual environment. This means that while players cannot see each other through the VR headset, they can see avatars representing other players' positions. We managed to achieve this while maintaining the lowest latency possible, thus increasing safety for players. 
Administration – to allow an individual to take control of the multiplayer session, we built an admin companion app. This app allows administrators to start or stop game sessions, load desired games, or toggle features of the VR app, such as automatic recalibration or voice chat. 
Game sessions with multiple users can be challenging to manage, we, therefore, implemented a system for automatically connecting/disconnecting players when they take headset off or pause the application. Admin can then easily restart the session for all players that remain connected using the companion app. 
CAPABILITIES
Services We Provided
XR App Development

Multiplayer App Development

Game Design

3D Content Authoring

Environment Animations

Testing 
OUTCOME
Platform with First Person Shooter and Escape Room Game Demos 
In its current stage of development, this platform allows us to demonstrate the ability to provide shared VR experience for multiple players that share the same physical space and interact with each other in both real, and the virtual world. 
Get in Touch with Us
Fill in this form, or, if you prefer, send us an email. Don't worry, we'll send you an NDA and your idea will be safe.
Do you want to be our client?