Software, Analytics Data and Reporting in the Aerospace Industry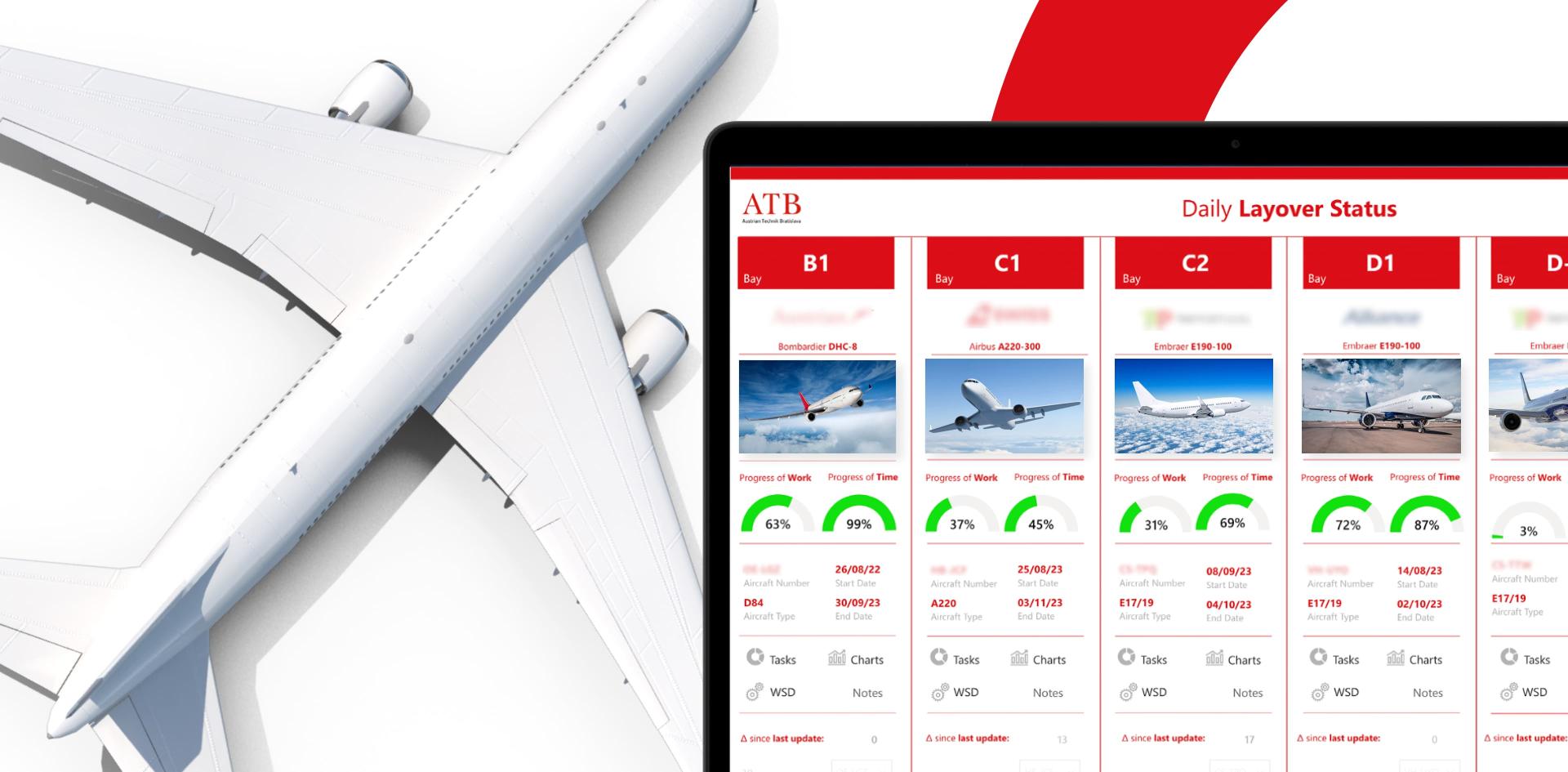 INTRODUCTION
Unleashing the Power of BI for Informed Decision-Making
Austrian Technik Bratislava provides first-class maintenance, repair, and overhaul (MRO) activities specifically for aircraft, based at the Bratislava Airport. ATB team consists of highly skilled technicians, boasting an average of 15 years of industry experience. Leveraging their profound knowledge, they excel at anticipating common findings. Now, thanks to the implementation of the BI project with us, they are empowered to provide valuable insights for their business operations regarding potential future outcomes and system behaviors. 
CHALLENGE
Understanding Data as the Main Key
Collection, organization, and interpretation of data to obtain valuable insights for informed decision-making. In preparation for the development phase, we prioritized understanding the context and specialized terminology, working closely with our client. This collaborative approach ensured that we started the project with a comprehensive understanding, setting the foundation for success. 
SOLUTION
Reports and Dashboards with Aggregated Data from Various Sources
The solution utilizes data gathered and stored from multiple sources, then transforms data and loads data (ETL process) to an analytics database, loaded to the BI tool, and presented to users. We embarked on a transformative Business Intelligence Analytics project aimed at aggregating data from various client sources into a robust analytics database. Our solution enabled the client to uncover hidden opportunities through insightful reports derived from the gathered data. This project served as a foundational milestone, empowering us to embark on future endeavors with the client such as advanced analytics and acquiring data from previously inaccessible sources.  
CAPABILITIES
Services We Provided
Backend development

Integrations

ETL pipelines

Business Intelligence Analytics 
PROCESS
Thorough Data Work: Validation and Processing
Within BI projects, we prefer to guide clients through 2 iterations: Data Analysis and Data Analytics. In this case, we started with Data Analysis meaning gathering the client's data, processing them, and presenting them by using BI tools (data visualization or storytelling). The next steps lead to proposing actions to take based on the data and sharing data between departments. The key steps to developing a successful BI project for ATB and achieving the desired outcome were identifying data sources, gathering and cleaning the data, developing a data model, developing analytics models, testing and validating, and creating reports and dashboards. Once the project was implemented, monitoring performance and adoption of the business operations changes and challenges became the key.  
Each iteration is composed of several steps like: 
definition of scope and objectives, 
identify data sources, 
gather and clean data, 
develop a data model 
develop analytics models 
test and validate 
create reports and dashboards 
run and monitor 

These are described more in detail in our blog post. 
OUTCOME
Resource Optimization, Increased Productivity, Simplified Aircraft Maintenance
Our collaboration and tech partnership led to significant advancements in the MRO activities effectivity and efficiency. Through tailor-made software development and advanced BI analytics, we helped to streamline aircraft maintenance and repair operations, achieving faster turnaround times in fewer days. This achievement optimizes resources and enhances operational productivity, showcasing the transformative impact of our partnership. Working with data using Business Intelligence and Business Intelligence Analytics is crucial and suitable for every company that wants to solve a specific operational problem or is looking for ways to become more efficient. 
Get in Touch with Us
Fill in this form, or, if you prefer, send us an email. Don't worry, we'll send you an NDA and your idea will be safe.
Do you want to be our client?